Hello, and welcome to the Slender Man Connection wiki, a subsidiary of the Slenderman Wiki
The purpose of this wiki is to catalog characters that are unofficially connected to Slenderman. In our definition, "Unofficial" refers to characters not directly tied to or related to the Slender Man mythos, but often tangently connected either by fan theory, assumption, or confusion. Additionally, individuals ARE allowed to post about virtually unknown individuals, but must have some form of reference on another wiki, YouTube, blogspot, etc.
Click here to return to the main Slenderman Wiki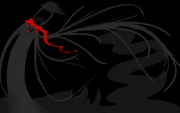 The Beast is an alternate interpretation of Slender Man from the novel OH GOD THE RAPTURE IS BURNING from The Fear Mythos. This interpretation of him varies greatly from contemporary portrayals, and acts as an anti-hero.
For previous featured articles, see here