HE WAS NEVER REAL!!!
The fact you guys think he's real is RIDICULOUS!!!
Kastoway, the creator of Ticci Toby actually had to make an account to tell you all how ridiculous you're being.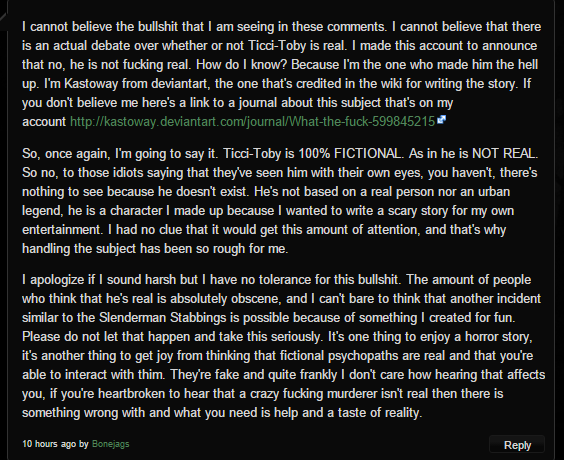 Shortly after this, I had to block an anon for calling Kastoway an idiot for pointing out that HIS OWN CHARACTER is not real.
IF YOU STILL BELIEVE IN TICCI TOBY AFTER SEEING THE CREATOR HIMSELF TELL YOU HE'S NOT REAL, YOU ARE RIDICULOUS, AND IN NEED OF MENTAL HELP.
Ticci Toby is CONFIRMED FICTION.
And Kastoway is 100% right, if you're sad that a murderous psychopath is not real, something is wrong with you. That's like being upset that you'll never end up trapped in Silent Hill running from thousands of things that want to kill you or otherwise torture you, or upset that Jason from Friday the 13th will never try to kill you because he's not real.
This kind of thinking is what ultimately led to the stabbings in Wisconsin: Two girls WHO CLEARLY KNEW NOTHING ABOUT THE MYTHOS glamorized Slender Man, even making up their own bullcrap about him, and proceeded to try and make him happy by murdering an innocent.
At least most people who believe in Slender Man understand that what he does is evil, and that he would not want to be friends with them.
Something else: talking about how much you relate to him.
Is it really a good idea to say that just because you have one of his mental illnesses or disabilities, or just happened to have been bullied, that you "have so much in common and relate to him on a personal level" when that same guy is MURDERING PEOPLE?!?
Do you really want to compare yourself to a little psycho who kills people? Do you really want to glamorize that?
I've met many people who went through just as many hardships as (if not more than) Ticci Toby, and turned out just fine (in comparison to a murderous child, anyway).
Ticci Toby is an example of the AxCrazy Trope and the Loners are Freaks trope, among many others. He is based on common portrayals of his conditions in fiction, not how those conditions work in reality.
You should not want to relate to him. If he posted his story on tumblr, everyone would rant about how offended they feel.
I'm sorry, but you've all crossed my breaking point. I've tried to be patient with you all, I have, but you are getting out of control with your fantasies. There was someone talking about how their friend would refuse to be friends with anyone who didn't believe in Ticci Toby. If you act like that, you need mental help, and possibly a good slap to the face for being a jerk who would be cruel to your "friends" for not believing in  an obviously fictional character from a creepypasta on the internet.